Enzyme Science - Acid Calm, Occasional Heartburn & Indigestion, 90 Vegetarian Capsules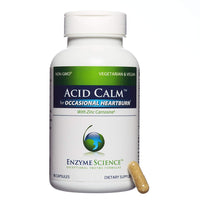 ENHANCE YOUR BODIES NATURAL PROCESS: While many products are formulated to address symptoms, Acid calm contains natural enzymes that work with your body to soothe indigestion and enhance your body's natural digestive process.
BEFORE THE BURN: Enzymes produced by the human digestive system play a vital role in overall health. They ensure proper breakdown, absorption and utilization from the foods we eat. A deficiency in our natural production of digestive enzymes can be an underlying cause of gastrointestinal complaints, including occasional heartburn and acid reflux.
REDUCE OCCASIONAL HEARTBURN: Most People suffer from heartburn occasionally, usually after a meal. Although commonly attributed to excessive acid production, occasional heartburn is often a symptom of impaired digestion as a result of factors including lifestyle, diet and genetics.
EXCEPTIONAL QUALITY & PURITY: Enzyme Science has defined purity by ensuring that all raw materials used in production are from the highest quality and purest sources available. Enzyme Science has spared no expense to ensure that their formulas never contain fillers or excipients, nor utilize flow agents in their production. This guarantees the purest products with immediate bioavailability, as well as products that inspire confidence in their safety and efficacy.
A HISTORY OF EXPERTISE: Using intelligent formulation, Enzyme Science utilizes proven technology for blending multiple strains of enzymes. They also proudly bring you ATPro an exclusive blend of critical nutrients that provide ATP (adenosine-5-Triphosphate) and enhance ATP production. This coenzyme is essential for nutrient absorption and propels Enzyme Science formulations to the next level.