Enzyme Science - Complete Digestion - Full Spectrum Digestive Enzyme Formula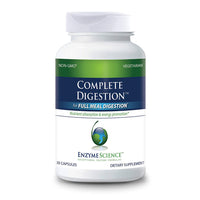 HAPPY TUMMY, HAPPY YOU: Complete Digestion is a vegetarian formula designed to help smooth out regularity and digestive issues like occasional gas, indigestion, and bloating.
IT'S GOOD TO BE REGULAR: Our formula encourages a healthy balance of good bacteria to help your body break food down and keep waste moving.
A PROBIOTIC PUSH: A blend of 125 million active probiotic cultures helps jump-start natural production of digestive enzymes, like lactase, to naturally support digestion.
MORE THAN AN ANTACID: Antacids and laxatives only mute digestive complaints. Complete Digestion goes further by helping correct them with enzymes and probiotics.
PRACTITIONER READY: We're dedicated to providing exceptional enzyme blends that go beyond digestive health to benefit the whole body.