Enzyme Science - Critical Digestion - Highest Potency Digestive Enzyme Formula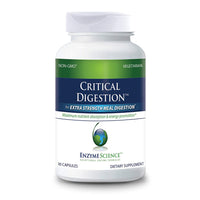 Size:30 |  Product Packaging:Frustration-Free Packaging
Occasional gas, bloating, and indigestion are ways your stomach says things aren't going well. In fact, they can be signs that your gut is struggling to balance the enzymes and microflora your body needs to support digestion and regularity. Critical Digestion responds with enzymes and probiotics. The formula includes key enzymes essential to immediately assist with the digestion of problem foods. It also delivers 1 billion active probiotics to help trigger your body's natural production of many of these enzymes and to help renew an environment where your microflora can thrive. An upset stomach could be a sign you need Critical Digestion.
HAPPY TUMMY, HAPPY YOU: Critical Digestion is a high-potency vegetarian formula designed to help soothe digestive distress with probiotics and enzymes.
PROBIOTIC POWERHOUSE: Each capsule has a blend of 1 billion active probiotic cultures to promote an environment where beneficial microflora thrive.
IT'S GOOD TO BE REGULAR: Our formula encourages a healthy balance of good bacteria to help break food down, get waste moving, and reduce occasional indigestion, gas, and bloating.
EAT, DRINK, BE ENERGIZED: ATPro Blend complements the digestion-supporting combination of enzymes and probiotics by promoting energy.
PRACTITIONER READY: We're dedicated to providing exceptional enzyme blends that go beyond digestive health to benefit the whole body.