ENZYME SCIENCE GI Motility Complex 60 CT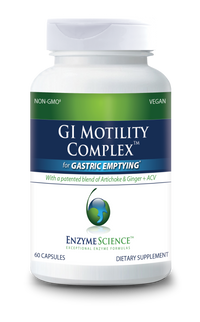 GI Motility Complex provides support for slowed gastric emptying and it's associated discomforts. The unique ProDigest blend consists of triple standardized artichoke and ginger to help address these issues and provide critical support for the digestive system, working in the small bowel and stomach to improve nutrient transit times.*
GI Motility Complex provides support for slowed gastric emptying and it's associated discomforts.
The unique ProDigest blend consists of triple standardized artichoke and ginger to help address these issues and provide critical support for the digestive system
This blend offers multiple benefits including a reduction of digestive discomforts such as gastric fullness, nausea and bloating, as well as an increase in gastric emptying and motility
Unlike many Apple Cider Vinegar extracts that consist of only acetic acid, the inclusion of the "Mother" ensures that the many benefits of true Apple Cider Vinegar are realized in GI Motility Complex.
Works in the small bowel and stomach to improve nutrient transit times.