ExerBand Resistance 3 ft. Single Strand Unilateral Tubing 5/pk - by PrePak Products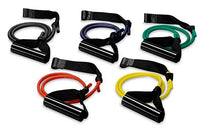 ExerBand resistance 3 ft. Single Strand Unilateral Tubing 5/pk - by PrePak Products
ExerBand resistance tubing in economical three-foot single strands with standard web anchor straps and EZ Change handles.
Set of five resistance levels includes one each of yellow/thin, red/medium, green/heavy, blue/ex heavy, and black/special heavy.
Instruction booklet with exercises included.
For longer life, do not store in the sunlight, and keep it in its sealed plastic bag between use. Do not over stretch the tube (more than double its length). Prior to every exercise session, check tubing for wear, nicks, cuts, abrasions or signs of discoloration.
Whenever the tube shows signs of wear, such as nicks, cracks, cuts, abrasions or signs of discoloration/oxidation, it is not safe to use. Always check the condition of the product prior to use.