Greens First® Lean™ Amp Up Plus B-12 Dietary Supplement Spray – Nutritional Supplement – Diet Spray – 30 Servings per Bottle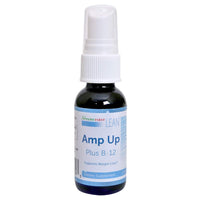 SUPPORTS WEIGHT LOSS. Amp Up Plus B-12 is part of the Greens First LEAN complete line of nutritional supplements formulated to support healthy weight loss and weight management.
ACTIVATES AMPK. By activating AMPK, this spray is an extremely effective fat burner that works at a cellular level. AMPK supports stimulation of healthy fat metabolism, helping the body to use fat for energy rather than storing it. AMPK activity has been shown to stimulate the body, suppress chronic inflammation, release stored fat, reduce triglyceride production, increase cellular metabolism, raise production of mitochondria, and enable the removal of fats and sugar from the blood.
PROVIDES B-12. B-12 plays a key role in metabolizing fats, heart and nervous system functions, and normal blood flow. It is an important vitamin for the functioning of the nervous system and formation of blood and is involved in the metabolism of cells and fatty acid synthesis. B-12 also increases energy levels and gives?a physical sense of well being. As your energy levels increase, you become more active, and as a result your body will be able to burn more calories.
NO JITTERS. Amp Up increases energy generation at a cellular level (from fat) instead of acting as a nervous system stimulant, so you will not feel nervous, antsy, or jittery.
EASY TO USE. Two sprays under the tongue, three times daily, is all that is needed.