Greens First® Lean™ Natural Energy Dietary Supplement –Energy and Adrenal Support Supplement – Dietary Supplements for Weight Loss – Nutritional Supplements – 60 Capsules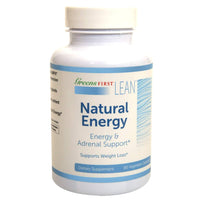 SUPPORTS WEIGHT LOSS. Natural Energy is part of the Greens First LEAN complete line of nutritional supplements formulated to support healthy weight loss and weight management.
STIMULATES METABOLISM. This dietary supplement is formulated with ingredients that may stimulate thyroid action and increase the body's metabolic rate. By stimulating Adenylate Cyclase and Cyclic AMP levels, Natural Energy may help regulate the body's thermogenic response to food, increase the body's metabolic rate and speed up the fat burning process.*
KEY INGREDIENTS. Natural Energy contains the following key ingredients: L-Acetyl-Carnitine, to increase cellular energy and the body's metabolic rate. Forskolin, to assist in the release and transport of fats, allowing them to be burned as fuel without affecting lean muscle mass. Dexpanthenol (B-5), a co-enzyme essential for the metabolism of lipids and carbohydrates. DHEA, which supports healthy adrenal glands and hormone functions and also modulates inflammation, a responsible factor in many
ALL-NATURAL. This dietary supplement is 100% natural and pharmaceutical grade.
EASY TO TAKE. The typical dosage of Greens First LEAN Natural Energy is one vegetarian capsule, twice per day.