Headrest Paper Tissue Sheets - Slotted - 12"x12" 1000 Per Box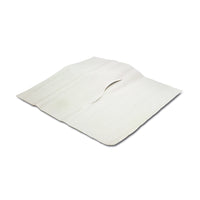 Economy Headrest Tissue Paper is Smooth, Hassle-Free. Made without a nose slot, these boxes of economy headrest tissue paper were created specifically for use with chiropractor, physical therapy and massage therapy office tables. Created for comfort and ease of use, the paper is smooth, comfortable and a clean white color. Economy headrest tissue is the perfect, cost-conscious option for physical therapy, massage and chiropractic offices looking for a table paper solution, plus the paper offers a convenient and reliable infection control measure.
Box makes it easy to store, plus it keeps medical exam areas cleaner.
Comes in convenient box for easy access.
1,000 sheets per box.
Without nose slot.
Size: 12 inch x 12 inch.