Hyperice Hypervolt Plus featuring Quiet Glide™ technology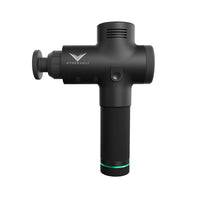 The Hypervolt Plus is a state-of-the-art percussion massage device that delivers max power and torque for deep tissue massage. This next-generation matte black muscle massager has all the same amazing features as the original Hypervolt but with a more powerful motor and a longer stroke length.
Features:
Approx. 30% more powerful than the original Hypervolt massager
Brushless 90-watt motor (vs original's 60-watt motor)
13 mm stroke length (vs original's 10 mm stroke length)
Helps relieve muscle pain, stiffness, and soreness
Increases range of motion
Increases circulation and blood flow
Lightweight at just 3 lb.
Easy to use
Portable
Powerful high-torque motor with noise-limiting Quiet Glide™ technology
Three speed settings
Up to 3200 percussions per minute
Five head Hypervolt attachments
Ergonomic design
Rechargeable lithium-ion battery provides up to 2.5 hours of use per charge
The Light, Quiet, and Powerful Muscle Massager
This lightweight, cordless massage device uses state-of-the-art vibration technology to relieve sore, stiff muscles, and help increase circulation and range of motion. At just 3 lb., this handheld massager features a powerful high-torque motor with three speed settings (2000/2600/3200 percussions per minute). It includes five distinct interchangeable heads to deliver a targeted and personalized recovery experience based on your needs. Its Quiet Glide™ technology makes it perfect for users who want to limit noise!
Quiet Glide™ Technology
People have always assumed that for a massage device to be powerful it has to be loud. But who wants a deep tissue massager that sounds like a power tool? After all, it's your body, not a construction site!
The folks at HyperIce knew they could do better. And so, following the same rigid manufacturing principles that expert engineers use for rocket development, they went about engineering the Hypervolt Plus by utilizing smaller and lighter parts, painstakingly crafted for absolute precision. The resulting Quiet Glide™ Technology is a symphony of components that delivers an experience so quiet you can use it anywhere you go.
Best of all, they did it without sacrificing power. And that became the Hypervolt Plus: A sleek, quiet device that's as soothing to the body as it is for the soul.
Percussion Massager Benefits
Using the Hypervolt Plus handheld massager is a great way to get your muscles warmed up for exercise or competition or to speed up muscle recovery after a strenuous workout. If sore, stiff, overworked muscles are limiting your mobility after exercise, the Hypervolt Plus' percussive massage can help relieve that pain and stiffness and return your range of motion.
When used as a trigger point massager, the Hypervolt Plus helps loosen knots and release constricted areas. As a deep tissue massager, it is an easy-to-use tool for performing self-myofascial release.
Why the Hypervolt is one of the best percussion massagers you can buy
Its powerful motor with three speed settings lets you deliver up to 3200 percussions per minute to the affected area.
Noise-limiting Quiet Glide™ technology you can use it nearly anywhere without disturbing those around you.
Four head attachments (ball, bullet, 2-prong, flat) let you deliver exactly the right type of percussion massage your body needs.
Lightweight (just 3 lbs.) and ergonomic, the Hypervolt Plus is easy to use, even if you're already tired from a workout.
The rechargeable lithium-ion battery – provides up to 3 hours of use per charge, so the Hypervolt Plus is ready to go when you need it.
The Hypervolt Plus is the choice of professional and amateur athletes for accelerating warmup and recovery, relieving pain, and releasing stiff muscles.
What's in the box
Hypervolt Plus
Hypervolt Applicator Set
Hypervolt Wall Charger
Hypervolt Battery