IMAK RSI WrisTimer, Daytime Wrist Brace for Carpal Tunnel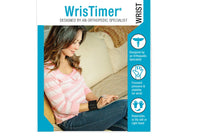 IMAK RSI WrisTimer® Large
CARPAL TUNNEL BRACE. The IMAK® RSI WrisTimer helps prevent and relieve wrist discomfort associated with carpal tunnel syndrome (CTS), arthritis, and tendonitis by encouraging proper hand and wrist position.
DAYTIME WRIST SUPPORT. WrisTimer wrist support provides therapeutic treatment during the day. Its finger and hand-free design allows a healthy range of motion and avoids damaging wrist flexion during work or activity.
STABLE & COMFORTABLE. The elastic wristband adjusts easily for stable and comfortable wrist compression while the finger loop adjusts for the desired range of motion.
FOCUSED PRESSURE. This wrist brace helps prevent and relive wrist discomfort and provided focused pressure and stability for the wrist. Reversible for either the left or right hand.
RECOMMENDED USE. The WrisTimer is an ideal dynamic support for occupational use. Use for repetitive stress injuries, post-op rehab, carpal tunnel syndrome, and prevention of potentially damaging flexion during activity.