Intellinetix Universal Therapy Wrap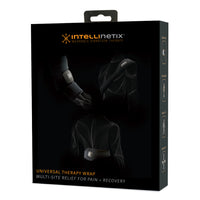 The Intellinetix Universal Therapy Wrap delivers targeted vibration therapy that aids in pain relief and recovery for shoulders, back, arms, knees, calves, feet, ankles and more. Three distinct levels of vibration offer customized relief. Universally sized and uniquely designed to fit almost any body part. Operates for approximately 45 minutes between charges. Use before and after workouts to increase flexibility and circulation and to reduce muscle soreness.
Vibration – Intellinetix harnesses the proven power of vibration therapy to stimulate muscles and ligaments, increase circulation, and reduce joint pain and inflammation. Three distinct levels of vibration let you adjust the treatment to your comfort.
Compression – In addition to the benefits of vibrating massage, the Intellinetix pain relief wrap provides mild compression that creates warmth, which may help increase circulation, reduce pain and promote healing.
Comfortable – Intellinetix vibration technology is designed to provide targeted relief while being comfortable enough to wear all day. You can wear your Intellinetix wrap almost anywhere and any time you need pain relief.
Drug Free – Intellinetix Universal Therapy Wrap is a drug-free solution for pain. This vibrating compression wrap massager can be used as frequently as needed. It is not made with natural rubber latex.
USB Rechargeable – The Intellinetix Universal Therapy Wrap recharges in minutes via its universal mini USB cable. Once fully charged, it will operate approximately 45 minutes before requiring another charge.