LashesMD® Eyelash Growth & Conditioning Serum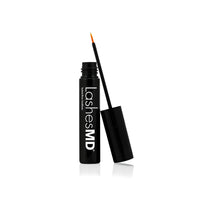 A professional grade lash growth serum available without a prescription. With LashesMD, eyelashes are fortified to highlight the appearance of eyes. LashesMD, a lash serum, promotes fuller eyelashes, stronger and healthier eyelashes (and brows!). Their signature eyelash conditioner nourishing formula is specifically designed to help eyelash growth and promote strong lashes. A lash growth serum to love, increases flexibility allowing lashes to reach their full potential - strong and full looking lashes!

Formulated without the use of parabens, drugs or prostaglandin analogues for lash lovers who want nourished, thicker, longer lashes without the possible side effects or irritations from products containing these ingredients. No need to glue on or rip off lashes, possibly ruining your natural lashes and lash growth follicle. LashesMD, our signature eyelash and brow conditioner nourishing formula is specifically designed with ingredients scientifically proven to help eyelash growth and encourage stronger, healthier lashes. 

Directions: LashesMD® is applied as a serum eyeliner on the upper and lower eyelid on the base of the eyelashes (on follicle of lashes) and/or eyebrows 1 - 2 times a day, preferably at bedtime. If applying to brows, swipe across clean, dry eyebrows.