Pillo1 100% Cotton Outer Pillow Case, Universal Size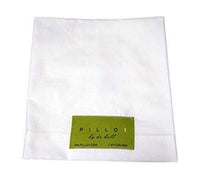 DESIGNED TO FIT. Fits comfortably over size small PILLO1 Original pillows and all sizes of PILLO1 Side Sleeper pillows.
COMFORTABLE. The luxurious feel of 100% cotton makes sleeping on your PILLO1 pillow even more comfortable.
BREATHABLE. Natural cotton lets you sleep cool while enjoying cervical support and comfort.
PROTECTS. This pillow case helps keep your pillow clean and protected so it can provide many years of neck support and quality sleep.
DESIGNED BY A CHIROPRACTOR. PILLO1 pillows are the result of 16 years of research and development by renowned chiropractor and sleep science expert Dr. Raymond Hall. They are designed to promote optimal spinal alignment, comfort, and healing while you sleep.