Medication and Supplement Pillbox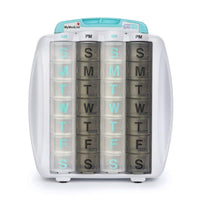 PillRite is a new unique pillbox that lets you set up medications and supplements for four weeks at a time for AM/PM instead of the standard 1 week pillboxes.
This can prevent a break in continuity each week caused by delaying filling your pillbox and missing or skipping a dose. PillRite's exclusive refill reminders let you know ahead of time that a prescription needs to be refilled, allowing you to order your medications and supplements in a timely manner. MyMedList compartment stores your medication/supplement list to use when filling your PillRite, making filling more accurate.
The MyMedList compartment can also hold prescriptions, doctor's instructions and other pertinent information and has a sticker for emergency information. The PillRite pillbox helps develop a strategy to build habits around taking your medications and supplements. These habits can be incorporated into a daily routine, giving you peace of mind. Set-up 30 days of medications at one time. Simple way to organize. Convenient Pill Dispenser with reminders. Keeps you healthy because you know what you need to take AM or PM. Removable Pillboxes with secure lids. Organizer for pills and supplements. Patented refill reminder. Compact, lightweight and durable. Fits on the counter or in a drawer. UV protected. This unique pillbox helps prevent a break in continuity from missing or forgetting a dose.
MEDICATION ORGANIZER that SAVES YOU TIME: PillRite lets you fill up your medicine or supplements for 4 weeks (AM/PM) all at once; it saves you time and hassle
PILL ORGANIZER keeps track of your consumption effortlessly: its difficult to track your pills twice daily; with PillRite you can tell easily.
EASY-TO-USE: medicine/supplements for the month, the My Med List compartment lists your medication, allergies, emergency phone numbers, etc.; the patented Refill Reminder reminds you to visit the Pharmacy.
COMPACT AND LIGHTWEIGHT: the PillRite pill organizer can stand on flat surfaces and fits into any drawer, so it's easy to be keeping it at home or in the office.
SPECIFICATIONS of the PILLRITE: 4.2 x 8.2 x 9 inches; UV protected to safeguard your medicine/supplements; 4 AM and 4 PM pill boxes for 4 weeks; 1 compact caddy with notepad and 6 sets of colored refill reminder strips.