Premium High Profile Air Walk Boot (X-Large, Blue)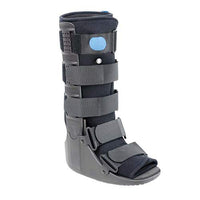 Inflatable bladder incorporated into liner for increased immobilization of the lower leg, ankle and foot. Designed for the treatment of stable fractures and ankle sprains. Lightweight, low rocker profile design for greaterfort. Cushioned heel for greater energy absorption. Wider rocker bottom design promotes a smooth energy conserving gait. Fits either left or right.
SUPPORTIVE. This orthopedic walking boot by Advanced Orthopaedics incorporates an inflatable bladder into its liner to better immobilize the lower leg, ankle and foot. It is suitable for users with soft tissue injuries, Grade 2 or 3 sprains, or stable fractures. It can also provide support following foot surgery.
SMOOTH. The rocker bottom design of this ankle stabilizer boot promotes a smooth, energy-conserving gait.
CUSHIONED. The padded heel absorbs the impact of each step, protecting tissues as they heal.
COMFORTABLE. The anatomically correct design of this lightweight ankle support boot offers superior patient comfort.
UNIVERSAL. This low profile walker fits either left or right foot.