Prince of Peace Detox Tea, 18 Tea Bags – Herbal Detox Tea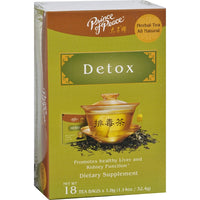 PRINCE OF PEACE DETOX TEA, 18 TEA BAGS – HERBAL DETOX TEA – PRINCE OF PEACE – TRADITIONAL MEDICINAL TEA – HERBAL TEA BAGS – DETOX HERBAL TEA SUPPLEMENT

Prince of Peace Detox Tea can be consumed daily to support liver and kidney function.* This detoxifying tea is made with a proprietary blend that is formulated by Prince of Peace's renowned, traditional Chinese herb experts. Prince of Peace Detox Tea is made with high-quality herbs used in traditional Chinese medicine.* Place one tea bag in a 6 fl. oz. mug and fill with hot water. Steep for 5–10 minutes. Drink one time per day. Since 1983, Prince of Peace has been committed to offering a selection of herbal tea products tested for safety and potency.

*This statement has not been evaluated by the Food and Drug Administration. This product is not intended to diagnose, treat, cure, or prevent any disease. If you are pregnant, nursing, taking medication, or have a medical condition, consult your physician before using this product.