Prince of Peace American Ginseng Root Tea, 20 Tea Bags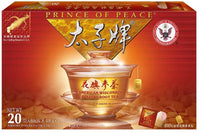 PRINCE OF PEACE AMERICAN GINSENG ROOT TEA, 20 TEA BAGS – PREMIUM WISCONSIN GINSENG – AMERICAN GINSENG TEA BAGS – TOP GRADE GINSENG TEA – PURE AMERICAN GINSENG ROOT

The American Ginseng in this Prince of Peace tea takes 3–4 years to grow and harvest in the mineral-rich soil conditions of Wisconsin. To ensure the highest quality American Ginseng, it must be grown on virgin soil, which can only be used once to grow the roots. Prince of Peace American Ginseng Tea features the Ginseng Board of Wisconsin (GBW) seal of authenticity as it only contains pure Wisconsin Ginseng. Prince of Peace American Ginseng Root Tea is carefully selected and packed at our cGMP and NSF certified facility in California. American Ginseng contains ginsenosides, which support fatigue and the balance of Yin and Yang in the body.
Prince of Peace is the #1 selling American Ginseng root tea brand in the United States. Ginseng is an ancient, but sought-after natural gift that has long been treasured and consumed around the world. To brew this American Ginseng tea, add one tea bag to an 8 fl. oz. cup of boiling water. Cover the cup and let the tea steep for 3–5 minutes before drinking. Prince of Peace American Ginseng Root Tea is made with 100% pure American Wisconsin Ginseng Roots.

*This statement has not been evaluated by the Food and Drug Administration. This product is not intended to diagnose, treat, cure, or prevent any disease. If you are pregnant, nursing, taking medication, or have a medical condition, consult your physician before using this product.