Prince of Peace Prince Gold KRG Korean Red Ginseng, 50 Capsules – Natural Red Panax Ginseng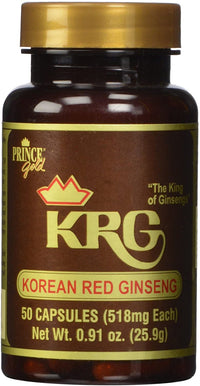 Experience the Benefits of Korean Red Ginseng!
Packed with nutrition, experience the benefits of Korean red ginseng with Prince of Peace's Prince Gold KRG Korean Red Ginseng capsules! Each capsule contains 518 mg of pure Korean red ginseng powder—free of additives or fillers.
Korean Grown Ginseng
The Korean red ginseng roots used in this supplement are harvested from their natural environment in nutrient-rich soil in Korea.
Immune System Support
Red ginseng has been used to help strengthen the immune system and promote overall health and wellness.
Helps Brain Function
Ginseng may also help with cognitive functions like memory as well as mood, feelings of calmness, and more.
Energy + Stress Support
Many uses for ginseng include promoting energy and helping combat stress and fatigue in the body.
Filler & Additive Free
Prince Gold KRG Korean Red Ginseng capsules are made from Korean red ginseng and gelatin, without fillers, sugar, starch, preservatives, colors, or other additives.
Suggested Use
Take one to three capsules daily with a glass of water. Store in a dry, cool place.
Experience the Benefits!
Korean red ginseng root, also known as Asian ginseng, Chinese ginseng, and panax ginseng, has been used for centuries in traditional Chinese medicine. Though similar to American ginseng, red ginseng has a different chemical structure and is more stimulating than its counterpart.
As an overall wellness supplement, Korean red ginseng has been used to help support the following:
Immune system
Heart health
Energy
Stress
Diabetes
Impotence