Prince of Peace Korean Ginseng Instant Tea, 100 Sachet – Natural Red Panax Ginseng Tea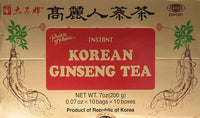 Packed with Nutrition!
Enjoy the benefits of Prince of Peace's Korean Panax Ginseng Instant Tea! Carefully selected, processed, and packaged for your drinking enjoyment, this instant tea is packed with the nutrition of Korean ginseng for total body wellness.
Enjoyed Worldwide
Korean ginseng, also known as panax ginseng, is considered a highly prized herb known for its natural health benefits. Used in a variety of natural health supplements, Korean ginseng has been taken for thousands of years by millions of people throughout the world.
Immune System Support
Red ginseng has been used to help strengthen the immune system and promote overall health and wellness.
Helps Brain Function
Ginseng may also help with cognitive functions like memory as well as mood, feelings of calmness, and more.
Energy + Stress Support
Many uses for ginseng include promoting energy and helping combat stress and fatigue in the body.
Filler & Additive Free
Korean Ginseng Instant Tea is made with Korean ginseng extract and glucose for a simple, instant tea you can enjoy year round!
Suggested Use
Take one to three capsules daily with a glass of water. Store in a dry, cool place.
Easy to Enjoy Hot or Cold!
Korean red ginseng root, also known as Asian ginseng, Chinese ginseng, and panax ginseng, has been used for centuries in traditional Chinese medicine. Though similar to American ginseng, red ginseng has a different chemical structure and is more stimulating than its counterpart.
As an overall wellness supplement, Korean red ginseng has been used to help support the following:
Immune system
Heart health
Energy
Stress
Diabetes
Impotence