Prince of Peace Sleeping Tea, 18 Tea Bags – Herbal Tea Bags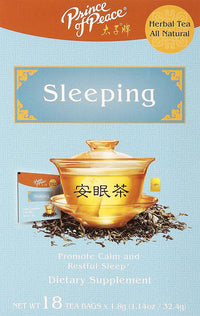 PRINCE OF PEACE SLEEPING TEA, 18 TEA BAGS – HERBAL TEA BAGS FOR SLEEP SUPPORT – BEDTIME TEA – PRINCE OF PEACE – HERBAL SLEEP AID – VALERIAN ROOT TEA

Prince of Peace Sleeping Tea is formulated by Chinese herb experts to support a calm and restful night's sleep.* This bedtime tea is made with herbal ingredients including licorice root, valerian root, and poria plants. Prince of Peace Sleeping Tea may also help to support relaxation and reduced stress.* Place one tea bag in a 6 fl. oz. mug and fill with hot water. Steep for at least 2 minutes. Drink before bedtime. Since 1983, Prince of Peace has been committed to offering a selection of herbal tea products tested for safety and potency.

*This statement has not been evaluated by the Food and Drug Administration. This product is not intended to diagnose, treat, cure, or prevent any disease. If you are pregnant, nursing, taking medication, or have a medical condition, consult your physician before using this product.