Prince of Peace Wild American Ginseng Instant Tea, 20 Sachets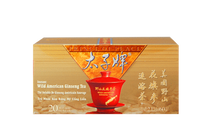 PRINCE OF PEACE WILD AMERICAN GINSENG INSTANT TEA, 20 SACHETS – GINSENG TEA PACKETS – EASY TO BREW HOT OR COLD – INSTANT AMERICAN GINSENG TEA – SUPPORT ENERGY LEVELS ON THE GO

Take the health benefits of Ginseng tea to go with Prince of Peace Wild American Ginseng Instant Tea, which is made with carefully selected and processed American Ginseng. Wild American Ginseng is one of the rarest Ginseng roots in the world. It contains ginsenosides, which are adaptogens that support fatigue and the balance of Yin and Yang in the body.* Our Wild American Ginseng roots are naturally grown in the forest and are harvested by legally licensed harvesters to promote sustainable harvest practices, which contribute to the long-term survival of wild populations and their habitats. Some of the Wild Ginseng roots are 10+ years in age. To brew this instant tea, simply dissolve the contents of one bag in an 8 fl. oz. cup of water. Prince of Peace Wild American Ginseng Instant Tea is made with Wild American Ginseng, American Ginseng Root Extract, and glucose for a satisfying cup of tea anytime, anywhere.

*This statement has not been evaluated by the Food and Drug Administration. This product is not intended to diagnose, treat, cure, or prevent any disease. If you are pregnant, nursing, taking medication, or have a medical condition, consult your physician before using this product.