Probulin Women s Health Probiotic - 60 Capsules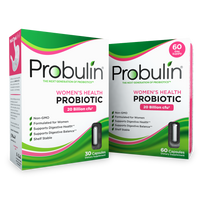 Probulin® Women's Health is a targeted once daily Probiotic + Prebiotic specially formulated for women with the following features and benefits:
Patent pending 

MAKTrek® 3-D

 

Delivery System
20 Billion cfu† per capsule
12 probiotic strains
Prebiotic Inulin – food for the probiotic's survival
Shelf stable
Supports digestive health**
Supports digestive balance**
All Probulin® products are formulated by board certified Naturopathic Doctor Jason Mitchell in conjunction with prominent gastroenterologist, founder of Kansas Medical Clinic and award winning author of Probiotics For Dummies, Dr. Shekhar Challa. At Probulin® we pride ourselves in producing the highest quality probiotic supplements on the market. Probulin® represents "The Next Generation in Probiotics.™"
Our products proudly feature the following:
Non-GMO
Shelf Stable
A minimum of 7 to 12 strains of beneficial probiotic bacteria in every product.
Includes the patent pending

 

MAKTrek® 3-D

 

Probiotic Delivery
Gluten Free
Soy Free
Wheat Free
Dairy Free
Magnesium Stearate Free
Vegetarian Capsules
All beneficial probiotic strains used are documented strains. All formulations are created, and based, on scientific research. Each Probulin® product is designed to support digestive health and digestive balance.
NO: GMO's Wheat, Gluten, Milk, Dairy, Eggs, Magnesium Stearate, Soy, Artificial Flavors, Artificial Colors, Artificial Sweeteners or Shellfish.
CAUTION: Do not exceed recommended dose. Pregnant or nursing mothers, children under 18, and individuals with a known medical condition should consult a physician before using this or any dietary supplement.
† at Best By Date as long as recommended storage conditions are maintained. Refrigeration is not required but may extend shelf life. Store in a cool, dry place at 72°F (22ºC) or below.
** These statements have not been evaluated by the Food and Drug Administration. This product is not intended to diagnose, treat, cure or prevent any disease.