Rapid Release Therapy Pro2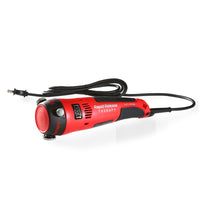 High-Speed Relief Is Possible with Rapid Release!
Experience non-invasive relief with the Rapid Release Pro-2. Invented by a chiropractor, Dr. Stanley Stanbridge, the Rapid Release Pro-2 helps relieve muscle discomfort and stiffness using high-speed vibration therapy that targets sore, stiff muscles with short, high-frequency strokes for effective relief.
Use the Rapid Release Pro-2 for the following:
Relax muscles
Release discomfort, tension, and stiffness
Relieve minor aches
Target trigger points
Recover Faster!
The Pro2 quickly helps to relieve discomfort and tension as well as relax muscles for improved recovery.
Help Relieve Tension on Target
Combining high speed and a short-stroke, this massager delivers a significant amount of precisely targeted energy to quickly relieve tension.
Durable & Easy to Use
Featuring an industrial strength design, this handheld massager is meticulously engineered for long life and heavy-duty professional use.
Versatile for the All-Over Relief
The 5 built-in treatment heads allow you the dynamic range to safely and effectively treat tiny muscles all the way to larger extremities.
Unique Vibration Therapy Technology
Rapid Release is leading the industry as a pioneer of high-speed vibration therapy. In addition to discovering the optimal treatment frequency (166 Hz), the Pro2 also utilizes a multi-head tip to treat various parts of the body from sensitive areas and large muscles down to trigger points. Its versatility allows users of all body types to experience relief.
Features
FDA Registered Class 1 Medical Device
No attachments to change or lose or batteries to charge
Balanced mechanism reduces vibration at handle
Treatments typically last just 2–5 min.
Easy to manage, 10.7" in length
Lightweight, 2.7 lb. (includes cord)
Voltage, 110/120 and 220/240 model
10,000 rpm, 166 Hz
New 3-Year limited warranty
"Bottom line is I want to help people have a better, fuller life. Without question Rapid Release is uniquely qualified to deliver that help."
– Dr. Stanley Stanbridge, Inventor, President
Vibration Therapy Benefits
Uses vibration therapy as non-invasive treatment to help provide relief for all, from elderly to pediatric.
Provides complete "head-to-toe" treatment of the musculoskeletal anatomy, offering improved movement through muscle relaxation.
May be used on areas percussive therapy cannot treat—the cranial area, spinal column, throat, jaw, spine, and tendons—due to the striking nature of percussive therapy.