rareEARTH Aromatherapy Oil, Peppermint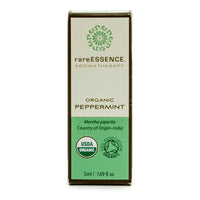 English Peppermint is a luxury product thought to be the best peppermint available. This essential oil is great for easing nausea, to refresh after a long day or even as a natural, organic insect repellent. This 5 mL bottle of peppermint essential oils can be applied directly on the skin, mixed with lotions, added to a bath, or enjoyed in an essential oil diffuser.
Peppermint oil can be used to ease nausea, aid headaches and help you refresh after a long day with an essential oil diffuser.
This 100% pure essential oil is organic and offers a fresh, powerful, and sweet scent.
For aromatherapy, use this 5 mL bottle in an essential oil diffuser to fill your home with refreshing peppermint scents.
Use only the best peppermint essential oil. English Peppermint is sourced from India is the highest quality peppermint. Besides being great for aromatherapy, it is used in after-dinner mints and liqueurs because it offers a smooth rounded oil.
Use all natural peppermint essential oils on the skin with a carrier oil as an organic insect repellant for safe and fun outdoor activity free from chemicals and toxins.