rareEARTH Aromatherapy Oil, Sleep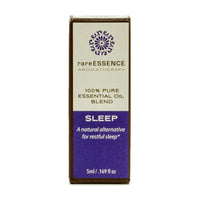 This natural blend of essential oils is a healthy alternative to sleeping pills when you can t sleep. Whether you suffer from insomnia, or an occasional restless night, the Sleep Blend was mixed to give you restful sleep. Breathe deeply as this essential oil is diffused in an essential oil diffuser, or rub a little on the bottoms of your feet with a carrier oil.
When you can t sleep, feel like you have insomnia, or can t stop tossing and turning, use this special blend of essential oils to help you rest peacefully.
The rareESSENCE Sleep Blend is an all-natural alternative to sleeping pills and other sleep aids.
The Sleep Blend can be used in an essential oil diffuser, with a few drops on the pillow, or applied directly to the body with a carrier oil.
This 100% pure essential oil blend is a safe way to fall asleep and rest comfortably.
This bottle includes 5 mL of rareESSENCE Sleep Blend.