Retap Eco-Friendly BPA Free Borosilicate Glass Bottle, 27oz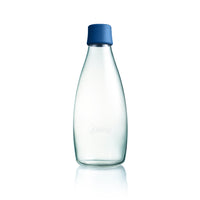 The 27 ounce refillable glass bottle from Retap is an eco-friendly answer to staying hydrated. With a leak-proof lid, the Retap 27 oz. can be thrown in a purse or gym bag without worry. The convenience doesn't stop there. This durable water bottle is made of the same glass used in laboratories and is dishwasher and microwave safe. The Retap's design is not only stylish, but smart with no edges for bacteria to grow. Choose from a wide variety of lid colors.
KEEP REFILLING - Refilling a reusable bottle is easy, inexpensive and the simplest act of personal environmentalism you can make. By refilling a reusable Retap water bottle you help lessen the environmental impact of transporting water all over the world and significantly reduce the mountains of trash created by plastic bottles.
CLEAN, LIGHTWEIGHT & STRONG - Both bottle and cap are dishwasher-safe and designed without any edges where bacteria can accumulate and grow. Lightweight and strong, Retap bottles are made from strong, heat-resistant borosilicate glass, the same durable glass used in laboratories and high-end cookware.
TAKE IT WITH YOU - The no-spill lid locks in place so it's safe to carry in your purse, briefcase, or gym bag. The 10-ounce and 17-ounce bottles fit in car cup holders, while the 27-ounce bottle is great for power drinkers and on a desk or at a table.
SCANDINAVIAN DESIGN - The Retap Bottle is awarded for its simple and functional scandinavian design. Retap has won several prestigious awards including the Red Dot Design award and GOOD DESIGN award.
SAY NO TO PLASTIC - We dream of a world where our oceans, rivers, and lakes are free from plastic pollution. Our mission at Retap is to rethink the way we drink water.