Seal Tight Sport Cast and Bandage Protector, Best Watertight Protection for Swimming, Adult Long Arm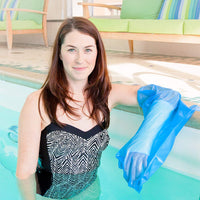 Size:Short |  Style:Arm
SEAL-TIGHT Sport is a safe, economical protector for casts and bandages during recreational water activities or daily showering and bathing. Easy application eliminates the need for pumps, hook & loop closures and adhesive tapes that may irritate skin. Made of TPE, a high performance thermoplastic elastomer that stretches easily, SEAL-TIGHT Sport maintains a waterproof seal. Reusable and folds compactly. Lasts the life of the cast. Use for swimming, water sports, whirlpools, hot tubs, showering or bathing to protect casts and bandages. Not made with natural rubber latex.
All SEAL-TIGHT products are latex-free, easy to use and guaranteed to perform
SEAL-TIGHT keeps casts and bandages dry
SEAL-TIGHT waterproof cast and bandage protectors are the easy way to keep water out during showering, bathing or play.
Today, SEAL-TIGHT remains the #1 brand for cast and bandage protection.