SleepRight Intra-Nasal Breathe Aids Breathing Aids for Sleep Nasal Dilator 30 Day - 2 Pack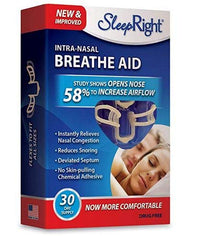 WORKS INSTANTLY. From the moment you put it in, this nasal breathing aid goes to work, relieving nasal congestion and helping to reduce snoring.
INCREASES AIRFLOW. The SleepRight Breathe Aid's flexible nasal flares gently expand nasal passages, opening airways (up to 58% more) to increase airflow.
REUSABLE. A single SleepRight Nasal Breathe Aid can be used for 15 days or more.
COMFORTABLE. SleepRight nasal breathe aids flexibility enables them to comfortably fit noses of all sizes. These nasal sleep aids use no adhesive, eliminating the risk of skin blemishes or irritation.
EASY TO CLEAN AND STORE. SleepRight breathe aids can be easily cleaned with mild soap and cool water as needed. They come with a reusable, recyclable case for convenient storage.