SleepRight Select Dental Guard 1 ea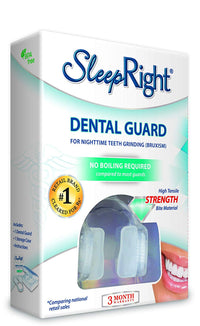 EASY TO USE. This dental guard requires no boiling or microwaving. Its exclusive patented design with self-adjust technology provides a comfortable custom fit.
STRONGER THAN COMPETITION. A mouth guard to stop teeth grinding has to be strong. These SleepRight Select dental guards have a bite pad tensile strength designed to last longer than a leading competitor and flex slightly to match the individual bite angle
SAFE TO USE. SleepRight Dental Guards have the best FDA safety record in their class – with no FDA adverse events in 21 years. They are non-leaching and non-toxic – with no BPA, latex, silicone, or phthalate.
MOST PRESCRIBED. SleepRight is the #1 dental guard brand prescribed by dental professionals. Anyone looking for the best nighttime dental guard should choose SleepRight.
3-MONTH WARRANTY. The durability of this bite guard is backed by a 3-month warranty, so you can be confident it will provide the comfort and protection you need.