Sport Intra-Nasal Breathe Aids from SleepRight – Breathing Aids for Sports – Nasal Dilator for Athletes (2-Pack)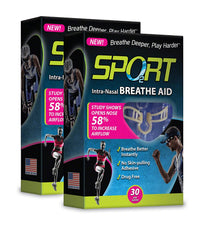 The 
Sport Breathe Aid
 is an 
intra
-
nasal
 device which is designed to expand the 
nasal
 passages to open the airways so that you can 
breathe
 deeper and play harder.
It has flexible flares that gently open the nose
 58% to increase airflow, whilst forming to the shape of the 
nose
 for custom comfort.
Opens nose to increase airflow
Sport Intra-Nasal Breathe Aid by SleepRight - The best solution for people who want to increase airflow through the nostrils during exercise or non-contact sports. These nasal aids are reusable and represent the perfect substitute for single-use products serving the same purpose. Designed to open the user's nose very gently to maximize airflow, they require zero preparation steps and don't contain adhesives that could affect your skin.
WORKS INSTANTLY. From the moment you put it in, this nasal breathing aid goes to work, expanding your nasal passages, so you can get more air into your lungs for better athletic performance.
INCREASES AIRFLOW. This SleepRight nasal breathe aid's flexible nasal flares gently expand nasal passages, opening airways (up to 58% more) to increase airflow.
REUSABLE. A single SPORT Breathe Aid can be used for 15 days or more.
COMFORTABLE. This breathing aid's flexibility enables it to comfortably fit noses of all sizes. It uses no adhesive, eliminating the risk of skin blemishes or irritation.
EASY TO CLEAN AND STORE. These breathing aids can be easily cleaned with mild soap and cool water as needed. They come with a reusable, recyclable case for convenient storage.