The Jojoba Company Jojoba Baby Certified 100% Organic - Gentle Enough For Newborn Babies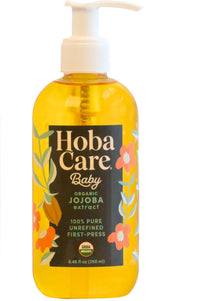 Non allergenic 100% organic pure jojoba, gentle enough for newborn babies. Perfect for baby's sensitive skin, scalp and hair. Relieves cradle cap, soothes irritated and chaffed skin. Non Toxic.
Jojoba Baby is a Pure, First-Press, Unrefined, USDA NOP Certified 100% Organic Golden Jojoba with No Added Ingredients or Fillers
Non-Allergenic, Will Not Clog Pores, or Stain
Soothes Dry, Irritated, Chafed Sensitive Skin - Free of Chemicals and Synthetics
Gentle Enough for Baby's Sensitive Skin But Great for the Whole Family
Cruelty Free and Biodegradable - 100% Organic, Pesticide-Free, Fungicide-Free and Herbicide-Free.