Therapeutica Sleeping Pillow Extra Large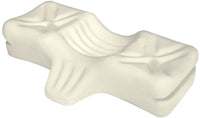 This pillow doesn t look like what you would expect that's because it was designed by an Ergonomic Designer in consultation with a Doctor of Chiropractic. One of the key goals to sound sleep is Spinal Alignment which can help you to be more comfortable. Because people sleep on their backs, sides, or both, this pillow was created to work for each sleeping position. The ergonomic design offers comfortable support and stability in all sleeping postures. The result is a more sound sleep and less tendency to wake with pain, stiffness and many of the symptoms resulting from lack of support.
The Therapeutica sleeping pillow is the only pillow designed to let you sleep comfortably, on your back and on your side, in the correct spinal alignment.
Changing your sleeping position requires different support. That's why the Therapeutica sleeping pillow gives distinctly different support for back and side sleeping. It provides back and neck therapy while you sleep, relieving stress and relaxing muscles.
Almost any daily activity can put your spine out of alignment. From working at a computer to washing your hair, shopping, golfing, lifting, bending, carrying, even driving. That's why the Therapeutica sleeping pillow is designed to give you corrective therapy while you are sleeping.
For side sleeping therapy, the Side Sections are higher to accommodate your shoulder properly and contoured to rest your head and neck comfortably in a natural position that allows correct spinal alignment. Pressure is minimized and stress is reduced from every contact surface of your head, neck and shoulder.
The design of the Therapeutica sleeping pillow prevents your head from being pushed forward while sleeping on your back and this helps reduce snoring by aiding in keeping critical air passages open.