Thermotex Far Infrared Heating Pet Bed - Large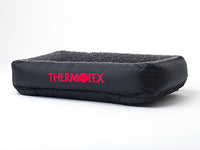 Designed to comfort pets and safely relieve pain and inflammation with far infrared heat therapy. Especially wonderful for older pets who have aches and pains like their owners.
Delivering gentle, deep-penetrating infrared heat to help soothe pain safely, effectively and expertly while helping your pet to relax.
After just 20 minutes, the heat penetrates to depths of 2.36 inches promoting increased blood flow into the targeted area delivering nutrients, oxygen and proteins to keep tissues healthy while eliminating toxin build up and reducing inflammation.
Our pet products are manufactured using the same technology as our therapeutic personal products which are registered as medical devices with Health Canada and the FDA.