The Original TimTam Power Massager - All New Handheld Deep Tissue Massage Gun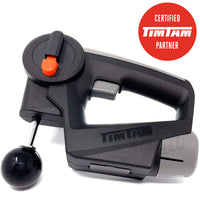 IMPROVED PERFORMANCE, 2X THE BATTERY LIFE
The new battery has 2X the capacity of the original.
SMOOTHER POWER, QUIETER OPERATION
Its quieter than its predecessor, it clocks in at 25dB. You instantly hear the difference.
ONE-TOUCH TRIGGER
One click and you're ready for recovery, making it a little easier to get to those hard to reach areas.
ANTI-BACTERIAL PLASTICS
The PowerMassager™ boasts anti-microbial plastics preventing germs, and cross-contamination.
ACTIVE RECOVERY ESSENTIALS, CERTIFIED PARTNER
When you buy from activerecoveryessentials.com, you are buying from a certified TimTam partner.
Learn More