Body Sport® TracCollar - Inflatable Neck Traction Device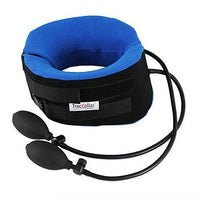 Inflatable Neck Traction Device - Cervical Collar for Neck Pain Relief - 2 Hand Pumps For Customizable Treatment - Release Pressure For Neck Pain Relief
Our necks are vulnerable to conditions that cause pain and reduce motion. Neck pain is usually a result of poor posture when working or sleeping in an awkward position, muscle strain injuries, stress, tension, arthritis or herniated discs. TracCollar will help you to improve your posture and also help to alleviate your pain by gently lifting the weight of your head off of your neck and shoulders providing neck traction.
For those whom experience arthritis in the neck and shoulders, TracCollar, a therapeutic neck collar, will help to take pressure off the stiff and painful joints to provide pain relief, comfort and improve mobility.
TracCollar is an air powered neck traction collar that will help to relieve downward pressure on spinal discs, thereby removing compressive forces which helps to reduce herniations, disc protrusions and ease the pain of pinched nerves and associated symptoms.
By decreasing pressure, TracCollar will also improve the blood and nerve circulation to the neck, shoulders and arms, which can lead to reduced tension and promote healing, as well as relax muscles to provide relief of neck related headaches.
NECK PAIN RELIEF! BodySport TracCollar is an inflatable neck traction collar that inflates with dual bulbs to gently stretch and relax muscles slightly for pain relief
EFFECTIVE TREATMENT! The BodySport TracCollar was developed by orthopedic engineers for comfortable, effective daily treatment
COMPACT AND PORTABLE! The Body Sport TracCollar is a portable inflatable therapeutic traction collar that inflates to gently relax, stretch, and take pressure off muscles and joints for neck pain relief
COMFORTABLE! This comfortable and lightweight cervical traction collar uses air traction to help improve posture, mobility, and circulation by relieving pressure from the neck, shoulders and arms
EASY TO USE! This inflatable neck traction collar is operated by two hand held inflation pumps that individually inflate the left and right sides of the collar. The traction device fastens easily with buckles and is washable