Vinyl Powder Free Exam Gloves, Non-Sterile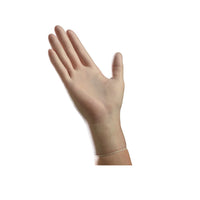 Ideal for use with activities or treatments involving minimal risk of biological contamination. Latex-free vinyl eliminates allergy concerns. Meets or exceeds ASTM and FDA examination glove standards.
Exam gloves for protection from germs.
Vinyl; Not made with natural rubber latex.
Meet or exceed ASTM and FDA exam glove standards.
Non-sterile.
Come 100 per box.
Powder-Free.
Semi-transparent white.
Protect Hands Against Germs & Contaminants
Gloves for Multi-Purpose Use
Ideal for multiple applications where risk of biological contamination is minimal.
Smooth Touch & Easy to Put On
With its form-fitting design, these gloves are easy to apply and feature a smooth surface for comfortable grip.
Quality & Value
These vinyl exam gloves are the perfect cost-effective solution for situations where frequent glove changes are required.
Allergy Friendly
The gloves are not formulated with natural rubber latex, making them allergy friendly for users.
Nitrile vs Vinyl: What Gloves Should You Use?
Nitrile gloves are made with a synthetic rubber compound, have a higher puncture resistance than other glove material, and have a better chemical resistance.
Vinyl gloves are more economical, durable gloves that have anti-static properties, are best used with non-hazardous materials, and are not made with natural rubber latex.