Web Slide® Basics System by PrePak Products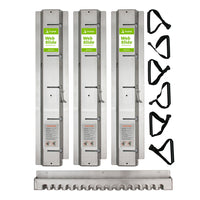 Web Slide Basics System by PrePak Products
Use our streamlined exercise rail system to increase your productivity, educate your patients and improve patient compliance.
It eliminates the clutter and inefficiencies of tying your tubes, bands and pulleys all over the clinic.
Easily perform exercises for trunk, upper, and lower extremities. Exercise facing or turned away from the anchor point, and in standing, sitting, kneeling, or prone positions.
There are no moving parts, no complicated equipment, and no obstacles to interrupt or slow user exercise sessions.