Body Sport® Vinyl Dumbbells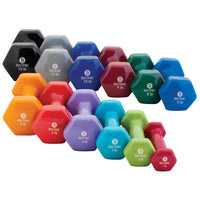 The Ideal Addition for All Workout Routines
Tone and strengthen your muscles with Body Sport Vinyl Dumbbells. Made of solid metal coated with vinyl, these weights are durable and comfortable for your hands. Not only are they easy to grip, but also easy to clean. These dumbbells are latex-free. Vinyl coated dumbbells have no-roll hexagonal ends that allow for convenient stacking. Each weight is color-coded so that you can easily identify which ones you prefer to work with. Because Body Sport Vinyl Dumbbells are available in a variety of weight increments they are perfect for both individual and group workouts.
Body Sport Vinyl Dumbbells Features
For toning and strengthening muscles, building stamina, and speeding up metabolic rate.
Easy to clean.
Solid metal, coated with vinyl.
Sold by each.
Latex-free.