Body Sport Resistance Tube Kit, Home Series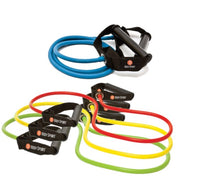 Help patients exercise at home by making Body Sport Resistance Tubes available in your facility with this handy retail package. Designed to help shape and tone the entire body, these performance tubes are available in 4 color-coded, progressive resistance levels. Patients will have no problem performing tricep extensions, bench presses, bicep curls and kneeling crunches. Reinforced foam handles provide a better grip and added comfort and control for a deeper stretch. Body Sport Resistance Tubes are made from durable rubber that can withstand frequent use too.
Resistance training tubes with cushioned handles for extra comfort.
Provides smooth, consistent stretch.
Ideal for frequent use in fitness facilities, workout routines, physical therapy, etc.