HearRight Ultra Soft Ear Plugs – Foam Ear Plugs – Soft Ear Plugs – (3-Pack) – Large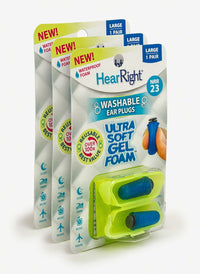 ADVANCED MULTILAYER DESIGN. Ultra soft foam inner layer – formed around a sound-dampening core – is sealed with a washable outer layer, providing comfort and convenience.
BLOCKS SNORING SOUND. A Noise Reduction Rating of 23 makes Ultra Soft Ear Plugs effective ear plugs for snoring.
EASY FIT DESIGN. Patented easy-fit push-button design eliminates rolling, re-fitting and contamination of ear plugs.
GELFOAM INNER LAYER. These ear plugs' waterproof, washable and ultra soft GelFoam inner layer seals out dirt and provides a comfortable fit. It can be washed up to 100 times.
SOUNDX SOUND DAMPENING CORE. Reduces vibration 30% more than traditional plastics.