Tiger Balm Pain Relieving Large Patch, 4" x 8", 4/pack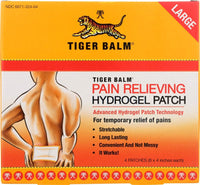 Premium Relief Is Possible with Tiger Balm®
For Relief of Minor Muscle & Joint Aches
The large Tiger Balm Patch is a 4 in. x 8 in. flexible relief patch providing temporary relief for minor aches associated with muscles and joints for hours of comfort. Featuring a thin design, this patch can be comfortably worn unnoticed underneath clothing. Easy to use, they go to work where it hurts with special hydrogel technology. The ingredients penetrate the skin quickly, stimulating blood circulation around the target area.
No Mess!
Not messy or greasy, Tiger Palm patches will not stain your clothing so you can wear them comfortably without issue!
Active Ingredients
Each patch contains 230 mg of camphor and 70 mg of menthol.
How to Use
To apply, first clean and dry the affected area.
Next, open a pouch and tear away patches at their easy-to-use tear away line.
Remove the protective film & apply directly to the area of discomfort. Apply to the affected area no more than 3 times daily.
Wash your hands with soap after applying the patch, then reseal the pouch containing any unused patches.
Important Usage Information
These medicated relief patches are for external use only at the site of discomfort, including the following target body areas: shoulder, neck, lower back, upper back, calves, and thighs. Adults and children 12 years and over apply to affected areas; change patch 1 to 2 times daily. Children under 12 years, consult a doctor before use.
Use Only as Directed
Avoid eyes/mucous membranes.
Avoid wounds, damaged, or irritated skin.
Do not bandage or cover with any type of wrap except clothing.
Do not use with a heating pad or apply external heat.
Ask a healthcare professional before use if pregnant or breastfeeding.
"Works Where It Hurts"
Tiger Balm has been used for nearly 100 years and is sold throughout the world. It is formulated to "work where it hurts." Use this patch for temporary relief of minor aches of muscles and joints associated with overexertion, arthritis, strains, and sprains.