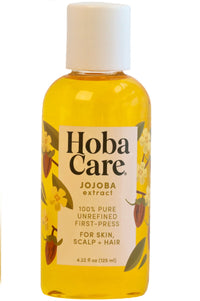 HobaCare 100% Pure Jojoba 100% Pure Jojoba oil. Unrefined. Pesticide-free. Unlike refined jojoba, HobaCare's expeller-pressed manufacturing process preserves the natural tocopherols and nutrients of the jojoba for premium quality, efficacy and performance. Natural golden color and earthy aroma. Will not become rancid or stain since jojoba is a liquid wax ester. The benefit is jojoba will not stain, clog pores and is non-allergenic. Available in 4.2 oz, 8.4 oz and 33 oz Use caution when laundering linens that have been exposed to oils. Oil products are potentially combustible when exposed to heat in the dryer. Consult dryer manufacturer's guidelines for drying linens that have been exposed to oils. *** During Winter , Jojoba may congeal while in transit . Congealing does not affect the Jojoba. Please remember : Jojoba is not oil . Remove the container from its packaging and leave it at room temperature to thaw out.Please do not use a microwave to speed up the thawing process. After Thawing it , you may notice white wisps in the jojoba or at the bottom of the bottle . They are Phospholipids, an integral constituent of jojoba . they are good for the skin! Simply shake te bottle to re-integrate them***
4.22 oz
Country of origin: USA
Please read all label information on delivery.