Ice Water EYES – Premium Anti-Aging Collagen Gel Pads 1 Pack = 3 Pairs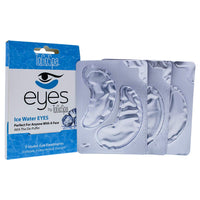 Size: - 1 Pack - 3 Pair
This is a multi-purpose skin enhancing lotion with a unique formula that works in three ways to intensify the color and life of your tan using added tanning actives creating a golden glow.
COOL, SOOTHING RELIEF. When headaches, allergies, late nights or fatigue cause your eyes to look tired, these collagen eye pads moisturize, plump and add nutrients to the delicate under-eye zone, creating a more relaxed and refreshed appearance.
NUTRIENT PACKED. Ice Water EYES collagen gel masks are micro-infused with a combination of hyaluronic acid, natural high-density marine collagen, enzymes, amino acids, natural marine minerals, trace elements, proteins and vitamins C & E.
FAST-ACTING. With just one 20-minute application, you will see improved elasticity, texture and overall appearance of the skin below the eye.
EASY TO USE. Activated by body heat, the nutrients stored in each flexible EYES by ToGoSpa gel pad go to work to aid stressed, tired and aging eyes and skin. Just place the pads under your eyes and let them work.
WORRY-FREE. Ice Water EYES contain no dyes and no parabens.