SUNDARI Neem Eye Cream for All Skin Types – Dark Circle Remover – Eye Serum for Puffy Eyes – Under Eye Tightener – Anti-Wrinkle Firming Eye Cream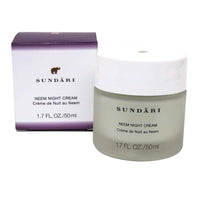 TIGHTENS AND BRIGHTENS. Helps reduce puffiness and dark circles around the eye area; helps to remove bags under eyes.
SMOOTHES FINE LINES. An under eye tightener, this light cream absorbs rapidly, and repairs and smoothes fine lines.
NOURISHES AND PROTECTS. Rich in herbal extracts like Neem and Gotu Kola, SUNDARI Neem Eye Cream nourishes and protects the delicate eye area from environment assault.
AFFORDABLE DAILY PROTECTION. Neem Eye Cream can be easily worn underneath makeup. A very small amount is used per application.
BEST-SELLER WORLDWIDE. Part of the SUNDARI Healing Collection, Neem Eye Cream is on the SUNDARI Global Best-Seller list. Made in USA.