Sundari Nighttime Nourishing Oil -- 0.5 oz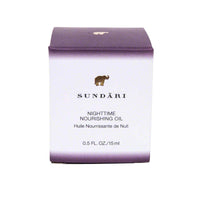 A SOPHISTICATED COMBINATION OF PRECIOUS OILS. This nighttime skin elixir contains a sophisticated blend of essential oils that go to work as your body and mind are at rest: Eucalyptus Oil, a stimulating antiseptic that increases circulation; German Chamomile Oil, distilled from the flowers rich in the anti-inflammatory azulene; and Lavender Oil, which promotes the growth of new cells and exerts a balancing action on sebum.
BLENDED TO REVIVE FATIGUED SKIN. Neroli Oil helps with regeneration of skin cells and improving skin elasticity. People with dry, sensitive and mature skin will notice the most dramatic benefits.
AN ANTIOXIDANT POWERHOUSE. With its high concentration of essential oils and antioxidants, Nighttime Nourishing Oil works to restore and rebuild skin tissue, giving the skin a youthful glow. This product is a perfect complement to most skincare regimens, particularly after microdermabrasion, chemical peels and sun exposure.
GOES TO WORK WHILE YOU REST. Apply 3 drops of Nighttime Nourishing Oil after cleansing your face before bedtime. Gently pat onto skin and follow with moisturizer of choice for maximum overnight benefit. With hazelnut oil as the carrier oil for a special blend of soothing, nourishing and regenerating essential oils, SUNDARI Nighttime Nourishing Oil will purify and relax the skin, leaving a soft, supple finish.
NURTURES SKIN GENTLY. Part of the SUNDARI Nurturing Collection and a worldwide SUNDARI best-seller. Free of synthetic fragrances and dyes. Non-comedogenic. Dermatologist and allergy tested. Made in USA. Paraben free.