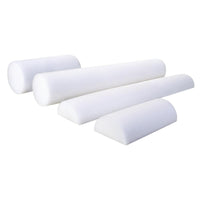 The Body Sport Foam Roller allows you to enhance your balance and body awareness. This roller promotes muscle re-education, motor planning, muscular flexibility and dynamic strengthening. Made out of lightweight, medium-density foam, this roller can perform a wide range of rehabilitation and strengthening exercises. The Body Sport Foam Roller is available in a full or half roller.
Foam Rollers Features
Lightweight, made of medium-density foam and available for purchase in a variety of sizes (available in full- or half-roller too).
Foam roller offers a wide array of strengthening/rehabilitation exercises.
Design enhances important things like balance, positioning, postural, neural and muscular flexibility, spinal stabilization, and dynamic strengthening.
An ideal tool for strengthening; add it to any rehab routine.