Body Sport Loop Exercise Bands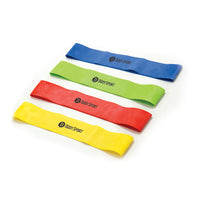 Strengthen & Condition Better!
BodySport Loop Resistance Bands are excellent for exercising hip and leg muscles to strengthen, rehabilitate, condition, or train. They fit comfortably around the upper and lower legs, providing resistance that challenges the muscles.
Perfect for Small Movements
Measuring 12 inches long by 2 inches wide, these resistance loops are perfect for small movements such as forward, backward, and sideways stepping.
Choose Your Right Resistance
These high-quality loop bands are available in four color-coded resistance levels: Blue (Low Resistance), Yellow (Medium Resistance), Red (Heavy Resistance) and Green (Extra Heavy Resistance).
Durable & Tear Resistant
Designed for repeated use, the bands are made from quality materials and manufactured to create tear-resistant exercise bands that will hold up to frequent and intense use.
Great for Building Strength
At 12 inches in length, these bands restrain your movement to short bursts of exercise, giving intense burn with minimal motion that is perfect for building strength!
Smooth, Consistent Stretch
BodySport® loop resistance bands are made of natural latex rubber, which provides a smooth, comfortable, and consistent stretch.
Multiple Uses in One!
Use BodySport Resistance Loop Bands for a variety of exercises, including strength training, flexibility, yoga, Pilates, rehab, and targeted resistance work on specific muscle groups.
Affordable, High-Quality Rehab Essentials
BodySport offers an exceptional value on therapeutic exercise and rehabilitation equipment. The brand accommodates the needs of healthcare professionals by offering affordable solutions without sacrificing quality.
Cost-effective, reliable products
Designed for patient rehabilitation
Ideal for healthcare professionals