Body Sport Loop Exercise Bands Kit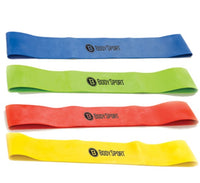 Body Sport loop bands are a lightweight, versatile tool for performing a wide variety of exercises practically anywhere. Available in four resistance levels, these durable latex bands can be looped around legs, arms or objects, providing resistance for lunges, raises, extensions, curls, rotations and many more body-toning exercises that are simple to execute and easy on the joints.
Great for exercising hip and leg muscles.
Fit comfortably around the upper and lower legs.
Ideal for short, limited movements.