Body Sport® Exercise Ball Poster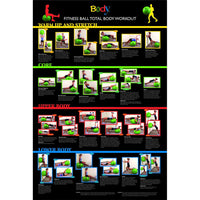 Fundamental Movements of Exercise Ball Fitness
Get step-by-step instruction for an effective exercise ball workout with the Body Sport Exercise Ball Poster. Measuring 25.08" x 37.08", this large poster features colored illustrations of various positions and movements great for targeting your abdominals and promoting torso stabilization. Reassure that you're getting the most out of your workout with an Exercise Ball Poster.
Exercise Ball Poster Features
Exercise ball instructional poster.
Colorful illustrations and detailed instruction.
Ideal for targeting core muscles and stabilizing the torso.
Size: 25.08" x 37.08".