Body Sport® Eye and Temple Massager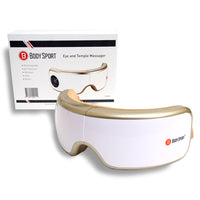 The Body Sport® Eye and Temple Massager is designed for massaging temples and other acupressure points in the ocular region to relieve eye fatigue and relax the user both physically and mentally.
This massager provides maximum comfort and relief through pneumatic and vibrating massage as well as 106°F–109°F hot compression to accelerate blood circulation. Depending on a user's need and preference, they can select between 5 massage modes, including Pneumatic + Heating, Full Function, Pneumatic + Vibrating, Pneumatic, and Heating. The Eye and Temple Massager features an adjustable elastic band and removable cover designed for increased comfort.
Additional features include an integrated mainframe, USB cable, operation introduction, certificate of conformity, LCD display, and a carrying case for on-the-go relief. This foldable, portable device also supports MP3 music that can be copied onto the device to provide ultimate relaxation during use.
Soothing Eye and Temple Massage Tool for Stress Relief
Alleviates Fatigue and Stress
Its soothing massage can help relieve fatigue and stress from the eye and temple area and improve circulation.
Promotes Deep Relaxation & Improves Sleep
This eye massager combines air pressure, vibration, and hot compression to promote deeper relaxation and help encourage restful sleep.
Relieves Under Eye Puffiness
This massager provides gentle heat compression to the skin around the eye, stimulating blood circulation to help reduce eye strain, dark circles, and puffiness.
The Perfect Gift
This eye and temple massager is the perfect gift for everyone, especially those who love spa treatments and professional massage therapy.
Adjustable Elastic Band
This personal eye and temple massager comes standard with an adjustable band for a comfortable fit.
Portable, Foldable Design
Small, lightweight, and easy to carry, this handheld eye massager features a foldable design, making a quick massage possible anywhere—at home, in the office, or while you travel.
Ergonomic
This rechargeable eye massager features a sleek, ergonomic design, perfect for personal use to alleviate anxiety and provide eye strain relief.
Rechargeable & Cordless
It features a rechargeable lithium battery that can be used for 4–5 days, one (1) 15-minute session per day.
How to Use the Eye Massager
Charging your personal massager
Connect the massager to a computer using the included USB cable and charge the built-in battery. The fully charged battery can be used for 4–5 days, one (1) 15-min. session/day.
Massager On/Off and Mode Selection
Press the On-Off/Mode Button to turn on the massager. The LCD screen will be on, and the massager will be in the default setting (Mode 1). Press the On-Off/Mode Button again to switch between the five massage modes. Hold the On-Off/Mode Button down for 1–2 seconds to turn off the eye massager.
5 User Modes
Mode 1: Pneumatic (Air) + Heating
Mode 2: Full Function (Air + Heating + Vibrating)
Mode 3: Pneumatic (Air) + Vibrating
Mode 4: Pneumatic (Air)
Mode 5: Heating
Using the Music Button
Press the Music Button to start the music. To change songs during music play, press the Music Button. To adjust the volume during music play, press the Music Button twice. The default volume is the high level. The volume sequence is high level, middle level, and low level. Hold the Music Button for 1–2 seconds to stop the music.

To transfer personal MP3 songs to the eye massager, connect the USB cable to the massager and a computer respectively. Copy the MP3 music onto the massager. The music will be available via the Music Button on the massager. Note: The massager will stop working when entering the USB connected state.
Cleaning and Maintenance
Care for Eye Massager Unit
For cleaning, wipe the product with a slightly wet soft cloth or towel.
Keep the product in a dry and airy place.
Do not expose it to direct sunlight, high temperature, or a damp place.
Care for Removable and Washable Cover
Gently remove any stains off the removable, washable cover with a slightly wet cloth after using.
Hand wash the cover in warm water. Do not wash in a washing machine or use bleach. Hang up to air dry; do not wring or iron.